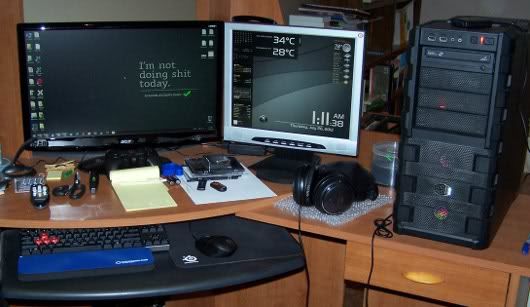 My desk, surprisingly not a complete mess at the moment.
I built my current PC in January of 2011. My previous PC, a Socket 775 machine with a Core 2 Duo E8400, was starting to show its age around the end of 2010. After holding out as long as I could I jumped on Intel's launch of Sandy Bridge and finally made the move from dual-core to quad-core. Here's the lowdown on my hardware setup:

Processor: Intel Core i5-2500K 3.3 GHz (running at 4.0 GHz)
Motherboard: ASUS P8P67 Pro
RAM: 8GB G.Skill Ripjaws X DDR3-1600
Video Card: 1GB MSI GeForce 560 Ti Twin Frozr II
Sound Card: ASUS Xonar DG
Power Supply: XFX 750W Black Edition 80+ Silver
HDD: Samsung Spinpoint F3 1TB
SSD: Crucial C300 64GB
Case: CoolerMaster HAF 912
I ended up spending around $1200 in total on this machine not counting the peripherals and software that I already had. It's definitely possible to build a solid entry-level gaming PC for $500-700 (thank you Newegg and Amazon), but I chose to spend a little bit more now in the hopes that it'll last me for a few years before I get the upgrade itch once again. Like I mentioned above, I moved from a dual-core CPU to a quad-core with this upgrade, and I feel like that was a pretty significant jump in performance which in turn justified the budget.
Accessories
I snagged my 23" Acer LCD off of Newegg a few years ago and use that as my main monitor. About 6 months ago I dusted off an old 17" no-name monitor and decided to give a dual-monitor setup a try - holy crap, I should have done that a long time ago. I quickly started messing around with
Rainmeter
, but that's a story for another post.
My keyboard is a CM Quickfire Rapid with Cherry MX Blue switches. This is my first mechanical keyboard and I can't see myself ever going back. I definitely plan on doing a full write-up on my experiences with this thing.

I use a Logitech G9X mouse on a Steelseries QcK mousepad. I used a Logitech G9 for a couple of years until one of the thumb buttons on the grip I was using (the G9 has two interchangeable grip styles) had worn down. Thankfully Logitech's customer support is amazing - I opened a support ticket and they sent me a brand new G9X no questions asked a couple of days later.
Finally on to my audio setup - JVC RX700s with a Logitech desktop mic. For 6 or 8 years I had always gone the cheap route with headsets, snagging something at Walmart for $10 or $15 bucks. They usually worked for about a year before something died, and eventually I decided to spend a bit more to see if I could get something that would last a little longer. After spending $60 on some USB gaming headset that lasted less than a year I did some research and wound up with a set of headphones sans mic. For $35 these things blow every other headset I've owned out of the water.
That's it for now - I'm sure I'll elaborate on some of this stuff in the near future.